The finest oak collection
We see it as our mission to produce the most beautiful and decorative oak veneered panels, enabling you to transform your most creative ideas into sensational interiors.
Every Decospan panel we produce is unique.
We handle the available oak veneer creatively and with the utmost respect. Our unique production processes capture and enhance the beauty, colour, markings and structure of solid wood, and combine these with the many advantages of a veneered panel. The gleam of amazement in the eyes of our customers when they enter their living room, kitchen or office, gives us the ultimate sense of satisfaction.

Intelligent. With Querkus, we have succeeded in capturing the capriciousness of nature in an accessible and easy to process product. No need to worry about product specifications; you can just focus entirely on the look and feel that will make your project unique.

Authentic. Querkus stands for an honest and authentic product. That's why, as well as processing new oak, we also give old oak beams a second lease of life. Veneer from old oak has a more seasoned and robust look. Recycling and upcycling at their best.

Sustainable. With Querkus we are working to reduce our environmental impact. We do this by making a product with a long service life, only working with oak from sustainably managed forests and by using environmentally-friendly production processes. This is all safeguarded in
our Pure Wood Charter.

European. Oak is highly regarded in the furniture industry and in interior design. Because of its durability and excellent workability, oak has been used for many centuries in these parts. Our buyers are always searching for the best logs of European origin.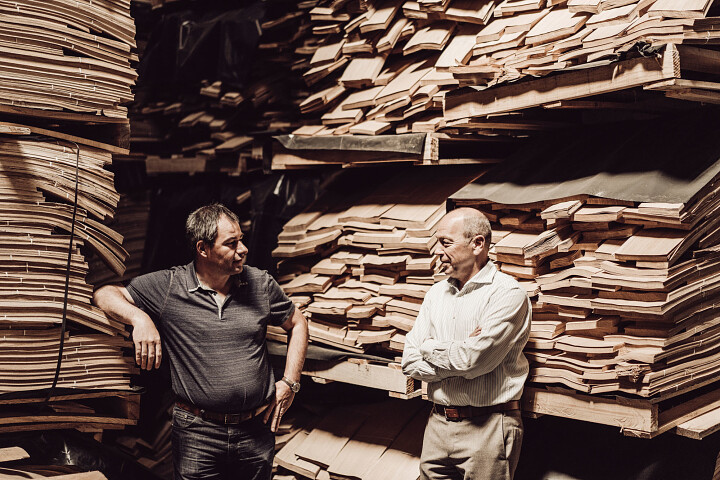 Superior quality
"Querkus" is synonymous with a unique and superior quality product. You should therefore only place your trust in panels on which you can see the Decospan logos on the side. The stamp also gives a production date so that each panel can be clearly traced. In this way, Decospan seeks to distinguish itself and guarantee its quality!
Querkus is not only available on panels, but also on Flex. Discover all the possibilities here.